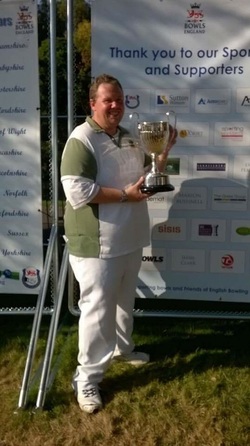 ANDY WALTERS NARROWLY FAILS TO WIN MENS NATIONAL SINGLES TITLE
Playing 6 games over two days Andy Walters fell at the last hurdle as he sought to win the National Singles title for the 2nd time in 3 years at Leamington Spa. He started with a comprehensive 21-3 victory over Nigel Cansdale (Gloucs) before Ed Elmore from Warboys BC in Huntingdonshire gave him a much sterner test going down 21-16. In the 3rd round he faced Phil Margerrison from Nafferton BC on Yorkshire who provided little opposition as Andy won 21-6 to reach the quarter finals.
The next day he started with a game versus David Forster Jnr and came through 21-19 in a close game. The semi final would prove a really tough test as he played John Ottaway from Wymondham Dell in Norfolk, a three-time champion and so it proved as Walters went 10-0 down after only a few ends. relishing the challenge and recalling his games in Club handicap competitions where he often started 10 or more shots behind, the comeback started and scoring 7 shots over the next 3 ends he got a bit closer.
Ottaway responded and moved to a commanding 17-10 position after 13 ends but 9 shots in next 4 ends put Andy 19-17 to the good. Ottaway scored a one but then a 2 on the 19th end gave Andy a deserved victory to put himself in the final. In the final he met Simon Green from Sandwich BC in Kent and he was always chasing the game as Green built a commanding lead at 17-7 after 17 ends. Despite a run of 6 shots in 4 ends, Green scored a 4 on the 22nd end to secure the title.
 WOULD YOU LIKE TO JOIN BROADWAY BOWLS CLUB?
We have open days, roll-ups and we are a very friendly approachable club. For new member enquiries please contact the Club Secretary – Avril Wood Tel: 01386 834768 or email: avril@ajw.org.uk