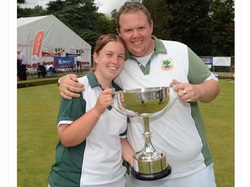 NATIONAL TITLE FOR WALTERS AND STANTON
Andy Walters & Amy Stanton succeeded in winning the National Mixed Pairs competition at Leamington over the Bank Holiday weekend. Over three days they overcame Kim & Tim Eales from Maidenhead Town in Buckinghamshire by 22-8 on Friday, before overwhelming Alex Jacobs & Ian Higgins from Box in Wiltshire 34-14 on Saturday morning to reach the semi final where they met Ross Tomlinson & Emma Felce from St Neots Town in Cambridgeshire.
In the closest game so far they managed to edge home by 1 shot 20-19 to reach the final where they would meet Sylvia Bloomfield & Tim Mould from Connaught Club in Essex.
For the first 16 ends there was nothing between either pair and the score stood at 10-10, but then a 3 and a 4 in quick succession gave the Broadway pair a huge advantage with 3 ends to play. Essex scored two singles but then a 5 for Broadway ensured a sweet victory.
 WOULD YOU LIKE TO JOIN BROADWAY BOWLS CLUB?
We have open days, roll-ups and we are a very friendly approachable club. For new member enquiries please contact the Club Secretary – Avril Wood Tel: 01386 834768 or email: avril@ajw.org.uk