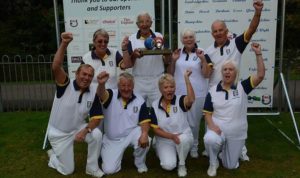 Broadway Win National Title
After 3 appearances in the final stages of the Tony Allcock Trophy over the last 3 years, Broadway Bowling Club finally got their hands on the trophy at the third time of asking.
On Saturday afternoon they played Marden BC from Kent winning by 45-38. Steve Aldren scored heavily in the last 6 ends to win by 29-19 whilst John Oliver had a much closer tussle eventually losing 19-16.
On a cloudy Sunday morning they faced Dorset in the semi final and both rinks won, Aldren by 21-17 and Oliver by 20-13 to put them into the final for the 2nd time in three years where they would face Yeovil BC from Somerset who won their semi final by one shot on an extra end v Egham of Surrey.
The final started in atrocious conditions as the rain lashed down. Aldren raced into a 14-3 lad after 10 ends whilst Oliver held a 2 shot advantage at the same stage. Yeovil came back strongly in the second half as the rain eased off to get to 19-17 down on the 19th end. With Yeovil holding 3 on the 20th end, Aldren managed to draw the shot with his last wood and a 2 on the last end gave him a 22-17 victory. It was altogether tighter on Oliver's rink and he found himself 17-16 down on the 16th end, but 5 shots on the next 4 ends gave Broadway the taste of victory and the Tony Allcock Trophy for the Mixed Over 60 Double Rink competition. They will now go forward to represent England in the British Isles Championships next June.
 WOULD YOU LIKE TO JOIN BROADWAY BOWLS CLUB?
We have open days, roll-ups and we are a very friendly approachable club. For new member enquiries please contact the Club Secretary – Avril Wood Tel: 01386 834768 or email: avril@ajw.org.uk